Child Abuse Prevention (1 semester credit - Ashland University)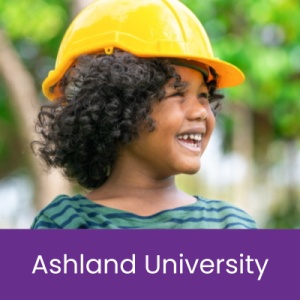 Protecting children is the role and responsibility of every adult. Be it in or outside of school, educators need to be aware of red flags indicating a child is being abused. The course Child Abuse Prevention tackles this very sensitive issue and aims to equip teachers with the essentials of recognizing and preventing abuse to maintain safe and secure learning environments.
Every educator should be aware of the different signs, symptoms and indicators of suspected child abuse and trafficking and this is the focus of SECTION A, Child Abuse Prevention. The course helps educators understand risk factors for abuse and trafficking, as well as how an educator can respond when they see signs that are concerning.
Bullying is a common issue that is seen in every classroom, school and playground. How do we respond to bullying or stop it? How do we help children who are on the receiving end and discipline the bullies? Learn more about this in SECTION B, Bullying: The Golden Rule Approach.
The third section of this course stresses on professional behaviors and ethical standards that teachers may adopt, that will help promote a safe environment for students to learn in. SECTION C, Ethics for Educational Professionals, encourages teachers to promote policies and practices in schools, and provides guidance on implementing the same.
Recognize the signs of the 4 types of abuse, and risk factors leading to abuse and human trafficking.
Recognize the role of educators in the prevention of abuse and human trafficking.
Identify personal areas for growth in professional habits and traits.
Discover strategies to defuse potential bullying behaviors.
---
Online semester graduate credit courses help teachers complete continuing education requirements.
Start ANY Time
All ONLINE 24x7
Regionally Accredited
1 semester Credit Graduate Courses
A-F Grading
No Textbook Needed
Includes ALL Content
1 Year Access
Official Transcript in Approximately 1 Week
After completing the course, you will be directed to the university for registration.
Dan N.

Heather F.

Leah P.

Monty B.

Ashley G.

Tressa M.

David R.

Jacqueline S

Jennifer M.

Alicia A.
Back to shopping
Built on aMember Pro™ membership software